Amsterdam Pampus Fortress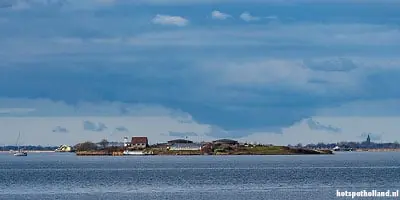 Amsterdam Pampus Fortress
Muiden


The Fort Island near Amsterdam
Muiden - Fortress Pampus is strategically located in the IJmeer, off the coast of Muiden near Amsterdam. From Muiden you can embark for a boat trip to the fortress island. On the island you will be received by the fortress guard and you can opt for a guided tour or wander around yourself.
History of Pampus
Pampus was built between 1887 and 1895. The fortress island is part of the Defense Line of Amsterdam and was intended to protect the city from attacks from the IJ. At that time there was no Afsluitdijk and the water was still in open connection with the sea.
The fortress was built on a shallow called 'Pampus'. The building material was supplied from Amsterdam. More than 4000 piles were needed for the construction of Pampus.
Ship Camels and a typical Dutch saying
Further back in time, before Pampus was an island, fully loaded ships from the far East could sail up to the Zuiderzee here. They were lifted over the Pampus shallows by so-called 'ship camels', so that the ships could still reach the port of Amsterdam. Sometimes the ships had to wait here. Since that time there is a Dutch saying "voor Pampus liggen" (in front of Pampus), meaning you are stuck and can't do anything!
War
The fort had room for 200 soldiers. But despite the cannons, a shot has never been fired. It was actually outdated before it was put into use. After the closure of the Zuiderzee in 1933, the fort lost its function.