Muiderslot castle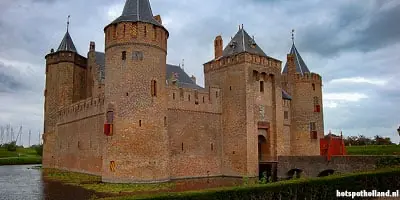 The castle in Muiden
Muiden


The Castle of Floris V
Muiden - The Muiderslot is located where the Vecht flows into the IJsselmeer. It is a real medieval moated castle: a square castle with a drawbridge, five sturdy towers, battlements and embrasures. You enter the age of chivalry through the gate.
The Muiderslot was built in 1285 by order of Floris V. From the castle he could levy a toll on ships that wanted to sail up the Vecht from the former Zuiderzee. But the castle is perhaps best known for its most famous resident, poet and writer P.C. Hooft, who lived here in the Dutch Golden Age.

Climb into the Westertoren and imagine what that was like wearing real armor or defend the castle in the Tower Route. Even more fun if you do the special Children's Treasure Hunt.
Follow one of the guides through the 17th-century decorated rooms where PCHooft lived four hundred years ago.
Watch a movie in the Slotkapel or taste the atmosphere in your own world.
Take advantage of the Museum Shop and enjoy a cup of coffee in the Tavern.

You can wander around in the beautiful gardens and in the summer season there is a falconer on the bastion. There are also theater performances.


1296: Floris V murdered
The nobles Gijsbrecht van Amstel, Gerard van Velzen, Jan van Cuyk and Herman van Woerden did not like their lord Floris V. They had imprisoned the Count of Holland in his own Muiderslot because of political games, or was it because Floris V. shared the bed with Van Velzen's wife? Long story short, they wanted to make the count disappear once and for all. On June 27, 1296, the conspirators murdered him not far from Muiderslot. The farmers who came to the rescue arrived too late for Floris V. At the place where Van Velzen gave the final blow (6 km away, near the Hakkelaarsbridge), there is now a memorial stone in the cycle path.