Antwerp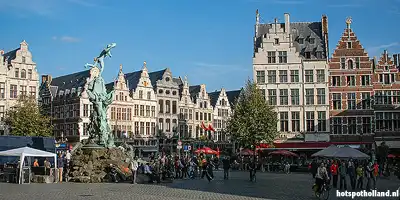 Trip just across the border in Belgium
Antwerpen - Belgium's second city is a popular destination for shopping, cozy cafes and restaurants and many other entertainment venues. Antwerp has a beautiful historic center and is easy to reach from the Netherlands.
The central point of Antwerp is the Groenplaatsplein, where you can enjoy the lively atmosphere and the view of the city. Other highlights include the Cathedral of Our Lady, the Royal Museum of Fine Arts and the Rubenshuis Museum. These museums offer a unique insight into Antwerp's art history and are well worth a visit.

The city also has a lively nightlife, with many bars and clubs open until the late hours. Antwerp is also known for its diamonds and jewellery, and the diamond district is a must-visit for any shopper.

Antwerp is a great destination nearby for a city trip. The city offers the perfect mix of history, culture and entertainment.