The invisible Mozesbridge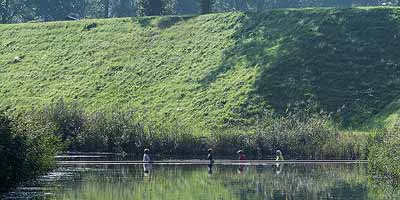 The Moses Bridge or Loopgraafbrug (Trench Bridge)
Halsteren


The hidden underwater Trench Bridge
Halsteren - Fort De Roovere, at the edge of the village of Halsteren, is part of the 'West Brabant Waterlinie', a line of defence from the Eighty Years' War, the Dutch War of Independence from 1568–1648. Part of the Fortress is the 'invisible' Mozes Bridge, also called the Trench Bridge.
Inverted Infinity Pool
During the refurbishment in 2010, the
trench bridge
was constructed. This striking bridge is sunk below the water surface like an inverted infinity pool.
The Moses Bridge, because that is its official name, is therefore almost invisible from a distance. From the fortress you reach the bridge via a 15 meter high staircase. On hot days you can regularly see a dog swimming past from the bridge.
Fort De Roovere and Fort Prinssen
The West Brabant Waterline was constructed in 1628 between the fortified towns of Bergen op Zoom and Steenbergen. The purpose of the line was to protect both cities from a Spanish attack. In addition, it served to secure 'de Eendracht, the shipping connection between Zeeland and Holland.
Fort De Roovere was built together with the line in 1628. A century later, some improvements were made, including an earthen connecting wall with the neighboring Prinssen fortress.
Six times underwater
In total, the waterline consisted of 4 forts, inundation areas that could be flooded and a line wall. Between 1620 and 1830, the area was flooded no fewer than six times. Once against the Spaniards, four times against the French and the last time in 1830 against the Belgians. In 1832 the fortification was lifted.
Environment
You can walk along the earthen ramparts and in the vicinity of Fort De Roovere.