Plane spotting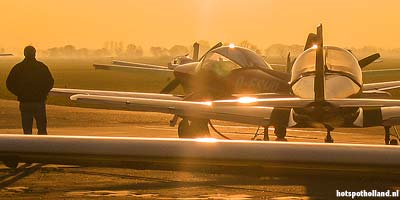 Ready for take-off? Breda International Airport
Bosschenhoofd


Breda International Airport
Bosschenhoofd - "International airport in a meadow" headlined a national newspaper in 2014, after the tiny Brabant airport Seppe was upgraded to "Breda International Airport". This landing spot in Bosschenhoofd near Breda is named after a person called "Seppe" who ran an inn here 200 years ago. The airport in the little village of Bosschenhoofd is still very small. There is more cattle than planes. nevertheless it is a nice place to stop by and enjoy spotting the departing planes. Are you ready for take-off?
Breda International Airport
Despite the new name, there was little change in and around the 800 meter long runway in Bosschenhoofd. Still, you can see all the aircraft well from the public road. It is an ideal place for airplane spotters and popular with day-people and cyclists who want to get off and check out.
Ready for take off!
Sometimes there are only 2 flights a day, but on other days it may be hundreds. Then it's coming and going of ascending and descending Cessna's.
Flying Museum Seppe
In the permanent collection of the Seppe Flying Museum there are 12 airworthy devices dated 1929 to 1975. In addition, there is an overview of aviation history with pictures, instruments, engines, replicas and aircraft models.