Big Spotters Hill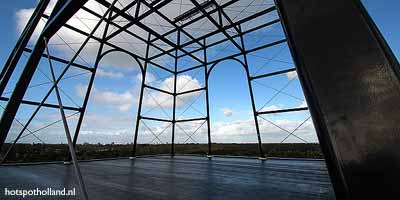 Big Spotters Hill on the former Floriade site
Vijfhuizen


The pyramid of Vijfhuizen
Vijfhuizen - The Big Spotters Hill is a grassy pyramid on the former Floriade site. The square hill was made in 2002 from sand and earth that was released from the site during the construction of ditches and ponds. At the time, the pyramid served as a viewpoint over the Haarlemmermeer and the 42-meter high pyramid still is. Among runners, Big Spotters Hill is especially popular for hill training. Several times a year events are held around the pyramid, such as various running competitions and music festivals.
Space Temple
Since 2002, the artwork "Ruimtetempel" by Auke de Vries has stood on top of Big Spotters Hill. But in 2004 the artwork was destroyed by a storm. Since 2014 there is a new object: "Mainport" by Lehner and Gunther architects. This structure is 15 meters high and has the contours of a gate. The arc-shaped openings are oriented towards the four directions of the compass. At night the building is illuminated with LEDs. The power for this is generated by the solar panels on the gate.
Spotting planes?
If you think you can spot planes from here because of the name of the pyramid, you will be disappointed. You can see Schiphol and even Amsterdam, but the aircraft taking off are hidden behind the trees. You can forget about spotting planes from Big Spotters Hill.