Bohrinsel in Dyksterhusen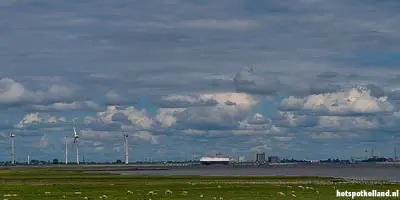 The port of Emden can be seen from a great distance
Dyksterhusen


Abandoned rig in the Wadden Sea
Dyksterhusen - The Dollard, an arm of the Wadden Sea, lies on the border between the Netherlands and Germany. It is an area with a panoramic view. About rapeseed fields, birds and seals. In 1964 test drilling for natural gas was carried out from a drilling platform in Dollard near the town of Dyksterhusen near Ditzum, near the Dutch border.
Bohrinsel in the Dollard
The Bohrinsel, the deserted drilling platform, is connected to the mainland by a kilometer long dike. The installations have been removed, but the beautiful view over the entire Dollard has remained.