Eighty Years' War: Bourtange fortress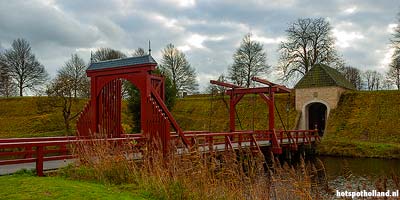 Bourtange fortress
Bourtange


Passage through the swamp
Bourtange - Centuries ago, the area between the city of Groningen and Westphalia in Germany was a vast swamp. A sand ridge formed the only passage. To protect his trade route to Germany, William of Orange built here in 1580 a fortress: Bourtange.
Pentagonal fortress
Like other fortresses and fortifications from the same period, the building plan of Bourtange is based on a pentagon. The enemy could be more easily attacked. Between 1607 and 1672, the fortress was expanded with two ravelins and crown work. Between 1737 and 1742 Bourtange was again expanded and strengthened further.
New weapons and dry up of the marshes, the fortifications became obsolete in 1851 and sold a few years later.
In 1972 the fortress and its town were completely restored to its former state by the residents. Nowadays you step back in time in Fortress Bourtange: the time of the Eighty Years' War of independence of the Netherlands.