Spot seals from the mainland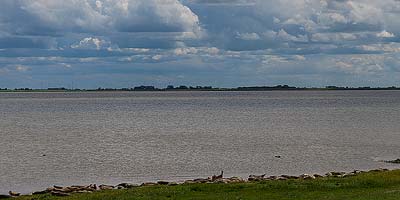 Sunbathing Seals near the village of Termunten, Groningen
Termunten


Punt van Reide
Termunten - De Punt van Reide, a headland in the Dollard river is a nice place to spot seals from the mainland. On some days, the animals are here to enjoy the sun, just behind the dike. The pups get swimming lessons from their mothers and learn how to catch fish.
Seal look-out wall
To prevent the seals from being disturbed, the province of Groningen build a
seal look-out wall
in the summer. In autumn the wall is removed again to avoid storm damage.
Best time to watch the seals
The best time to watch the seals is during high tide (check the tide table via the link below), when the mothers and their pups are below the dike sunbathing or eating.
Besides seals you can also watch birds.