Fort Saint Pieter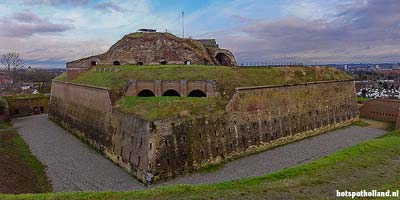 Fort Saint Pieter bij Maastricht
Maastricht


To defend the city of Maastricht
Maastricht - Fort Saint Pieter was constructed in the 18th century to defend the strategically important city of Maastricht in the southern of the Netherlands. The fort is an impressive looking hexagonal construction full of tunnels.
Fort St. Pieter
Fort St. Pieter was built in 1701 on the North Helling of St. Pietersberg to protect Maastricht against external attacks. There are 2 large bomb -free spaces in the fort for the storage of gunpowder. Fort St. Pieter was extensively restored in 2006.
Kazematten
The French laid miles of tangles to attack the enemy in the back. These casemates and galleries can be visited. The tour lasts approx. 1 hour and takes place under the leadership of a VVV guide and gives the visitor an impression "how and why" of this unique warpeculator monument, in which skillfully bricked dome vaults and impressive bomb-free spaces alternate with powder rooms, stairs and different galleries .