Ultra-secret NATO cave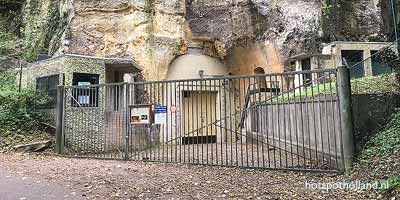 The entrance to NATO headquarters at Neercanne
Maastricht


Secret Cold War Command Bunker
Maastricht - In the hills of South Limburg is a former NATO complex. The military command center was always top secret. Despite rumours in the area, there were never any nuclear weapons in the caves located. However, these mass-destruction weapons were managed from this base.
Eastern Bloc
During the Cold War in the last century, the map of Europe looked very different. In the free west were the American-oriented countries, while the countries in Eastern Europe were oriented to the Soviet Union: the Eastern Bloc or the Warsaw Pact.
Joint Operations Center (JOC)
The Joint Operations Center (JOC) in the NATO cave in South Limburg was used to closely monitor the 'red danger' from the Eastern bloc. What troop movements took place in East Germany? Were there any suspicious circumstances in the Soviet Union that could give rise to military and even nuclear intervention in northwestern Europe? That decision was therefore taken in 'war-room' in South Limburg. NATO air defense over an area stretching from Norway to Italy was also directed from the Limburg NATO bunker.
From 1954 to 1992, the NATO complex worked around the clock by Dutch, Belgian, German, British and American soldiers. There were also regular exercises.
After the fall of the wall in 1989, the military complex in South Limburg became redundant. The secret command center was therefore closed. Now you can occasionally take a look.
After NATO left the base, it was found that large amounts of asbestos had been used as insulation material. The bunker has now been decontaminated and all asbestos has been removed.