Grindstone of Slenaken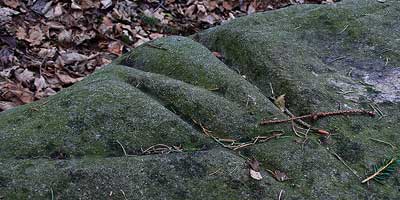 Stone Age in the Netherlands: Grindstone of Slenaken
Slenaken


Back to the stone Age in the Netherlands
Slenaken - Going back to the stone age is not easy. A ripped jeans (climbing over a barbed wire), a lot of slippery (muddy pasture) and a pair of soggy shoes (wading through a cold river) were needed to discover the prehistoric Grindstone of Slenaken.
The oldest inhabited part of the Netherlands
The southern part of Limburg is the oldest inhabited part of the Netherlands. Unfortunately many traces from that time have disappeared. The Slenaken Grindstone is one of the few visible remains from prehistoric times. The stone was used in the Neolithic age for polishing flint axes. Although the course of the adjacent river Gulp has changed slightly in all that time, the grinding marks in the stone from that time can still be clearly seen.