The Vault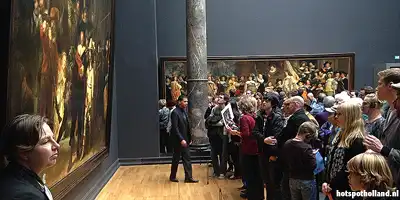 Rembrandt's famous Night Watch, among others, was kept in St. Pietersberg. Photo: Saturday afternoon bustle at the Night Watch in the Rijksmuseum
Maastricht


The largest vault in the Netherlands
Maastricht - The abandoned Van Schaijktunnel, deep in the limestone rocks of the Sint- Pietersberg mountain, houses the biggest safe in the Netherlands. This safe was built to protect famous artworks like the Nightwatch and other Dutch treasuries during World War 2.
Art bunkers in the dunes
Just before the Second World War, the Dutch government started building a number of special repositories for Dutch art. A number of special bunkers were built in the dunes near the North Sea for this purpose. However, shortly after the invasion of Germany at the beginning of the war, the German occupation started with the construction of the Atlantic Wall, which meant that a new storage place for all the works of art had to be found.
Rembrandt in the mountain
At the end of 1941, construction of a special safe was therefore started in Sint Pietersberg near Maastricht. The vault was completed in 1942 and 800 extremely valuable art treasures, including the world-famous Night Watch by Rembrandt, the Little Street by Johannes Vermeer and the Bull by Paulus Potter, were transferred to Limburg.
The St. Pietersberg
The St. Pietersberg is one of the few "mountains" in our country. However, a large part of the mountain has been excavated by the ENCI. The First Dutch Cement Industry uses the marl to make cement - but the marl extraction in the St. Pietersberg is much older. The Romans already started with aboveground extraction. The first corridors were carved in the 12th century. In the last century, the tunnel system had grown to no less than 230 kilometers. Due to the excavations in recent decades, only a part of it remains. The St. Pietersberg is now owned by the Association for Natural Monuments.
Caves
Led by a guide you can take an underground walk through St. Pietersberg. The tour leads you through dark corridors that extend into Belgium (and were therefore also used by smugglers) and past countless cave drawings and the site of a Mesosaurus. There are also all kinds of stories such as that of the 2 children who got lost and died. One of the boys was found less than 60 meters from the exit after 12 days. In the 17th century, 4 monks got lost in the pitch dark. After a few weeks, their bodies were found with their phalanges worn off. They had tried to find the exit by feeling.
Nightwatch trivia:
Turn around - The package with the rolled up Night Watch had to be turned a bit every day to prevent adhesion and damage.
Abroad - The Night Watch has been abroad once. That was after the war when the painting was returned to Amsterdam by ship. The shipping route ran partly through Belgian territory.