Hideout Diever Onderduikershol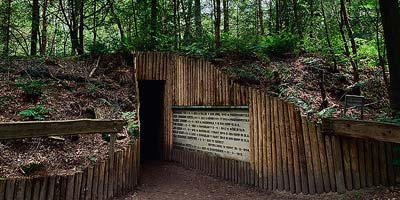 Hideout Onderduikershol Diever: De Wigwam
Diever


Hidden people location deep in the Drents-Friese Wold
Diever - It is 1943 when a group of young men from Diever decide to make a shelter in the area in order to escape being forced to work in Germany. In the forest, under a dune, they build a hut with logs and cover it with sand and vegetation - perfectly camouflaged in the forest. During the war the hut was called the Wigwam. Now the hiding place is known as Onderduikershol Diever.
Incursion by the Germans
In November 1944, the German Security Service (SD) tortured a detainee who betrayed names and places. The SD went to Diever and arrested 11 people. The Hiding Cave was also blown up.
The men were deported to concentration camps in the east. The large memorial stone at the entrance to the shelter contains the names of the victims. Of the eleven men, only one person returned alive,
The Wigwam
Through the camouflaged entrance you enter the central living area. Next to the living area was the kitchen and a bedroom. At the back of the dune was a storage place for the bicycles. In addition to the men from the village, the cave is also used to house some American airmen. The population registers of Diever and Dwingeloo were also buried in milk cans.
The small window in the back of the hideout was to escape.