Bronkhorst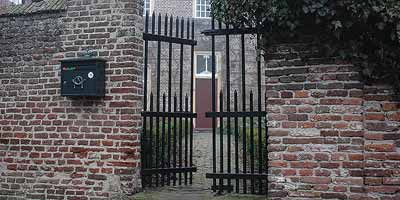 The smallest city in the Netherlands
Bronkhorst - A church, a water pump, a small museum, a restaurant and a shop, a few houses and medieval city rights. The latter is the only thing that makes this little village in the Netherlands a true city. Because it is the last place in the Netherlands that received city rights, it is actually also the latest city in the lower countries. Furthermore it is the smallest city- only 150 people live in the city of Bronkhorst.
Bronkhorst. City rights since 1482
It is not known exactly how far history goes back in the era. It is known that the town received city rights in 1482 and from that moment on it could call itself a real city. Unfortunately, the city walls and moat have disappeared over the centuries.
Small(est) city?
Incidentally, it is always difficult to determine which city is really the smallest. The claim of the smallest must therefore also be taken with a grain of salt, because is this now the area, the number of houses or the number of inhabitants? Whatever the unit of measure, Bronkhorst is small. About 150 people live there. Actually too small to be a city?
Persingen
Smallest village in the Netherlands
Close to Nijmegen is Persingen, the 'smallest village' in the Netherlands. It was once a prosperous community, but due to flooding of the Waal river in 1809 and 1820, not much of the town remains: 4 streets, a 13th century church, 4 farms, some houses and a few inhabitants.
Top 5 other smallest cities in the Netherlands
To outsmart discussions of what a small city is, here's our top 5 of other smallest cities in the Netherlands.
1

Staverden
Staverden is located in the middle of the Veluwe. The town has had city rights since 1298. When it comes to fame, Staverden has grown over the years into a city of stature. Not in terms of population and dimensions. You'll be through it in a minute

2

Sint Anna ter Muiden
The town of Sint Anna ter Muiden is located on the border with Belgium, at the westernmost tip of the Netherlands. With a few houses, the town is not large. But it does have city rights in 1242!

3

Eembrugge
The town of Eembrugge is located in the Eem Valley near Baarn. The town has over 120 inhabitants

4

Sloten
The Frisian town of Sloten feels big in this list. In reality it is only a small town

5

Schiermonnikoog
Schiermonnikoog is of course not a city. But because there are less than 1000 people living in this municipality, the island is in our list at number 5