Lauwersoog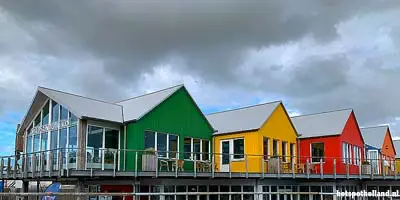 Port of Lauwersoog
Lauwersoog


The perfect place to eat fish
Lauwersoog - Lauwersmeer National Park is located exactly on the border between the provinces of Groningen and Friesland. The area is popular with kite surfers, bird watchers, water tourists, tranquility and defense. The port of Lauwersoog is located where the Lauwersmeer flows into the Wadden Sea. The ferry leaves from the harbor to Schiermonnikoog and occasionally a boat to Rottumeroog. Apart from the marina, Lauwersoog is mainly used for fishing. The port of Lauwersoog is therefore the perfect place to eat fish. You won't eat fish any fresher than here!
Lauwersoog what to do?
Most people will come to Lauwersoog for the ferry to Schiermonnikoog. But from Lauwersoog you can also make trips on the mudflats itself. Via an excursion you can, for example, take a boat trip along sandbanks where seals are sunbathing. Or you can do a mud flat walk at low tide to the Engelsmanplaat, Brakzand sandbank or Het Roode Hoofd sandbank.
Lauwersoog kite spots
For kiters there are two kite spots close to each other. The place on the Wadden Sea is for experienced kite surfers. The other kitesurfing spot is on the Lauwersmeer, along the N361 on the Frisian side.
Marnewaard practice area
Defense has a large training area in the Lauwersmeer area. Here is also the practice village Marnehuizen. When not practicing, the area is partly open to the public (check the flag to see if it is safe).