Waiting for high water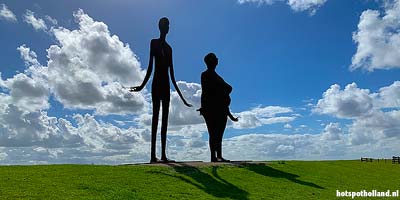 Waiting for high water
Holwerd


Giant statues at the dike near Holwerd
Holwerd - On the dike near Holwerd, two huge women are staring at the Wadden Sea. One thin, the other voluptuous. Both ladies are waiting. They look out over beautiful skies, green salt marshes and the ever-changing Wadden Sea. And to the arriving and departing travellers to the island of Ameland in the distance. The women are waiting during good weather, but also when it rains, snows or when it storms. The two women on the dike at Holwerd are waiting for one thing: high water.
The two giantesses of Holwerd
Both women are made of metal. And they are big - up to five meters high. When you stretch you can just touch their outstretched hand. The statues of both women were made by the Frisian artist Jan Ketelaar. "Sense of Place: Waiting for high tide" can be seen from afar.