Ameland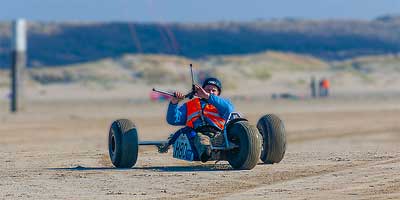 Kite buggy at the North Sea beach, Ameland
Ameland


Most beautiful places, beach, dunes and sea
Ameland - Ameland has almost thirty kilometers of beaches - enough to have a whole stretch of beach all to yourself. The village of Nes, a village with nice old houses, is the most important place in Ameland. The ferry from Holwerd also arrives in Nes. Many citizens used to live from whaling. Today, tourism is the main source of income - without too much commerce. Besides enjoying sun, sea and beaches, Ameland also offers many possibilities for an active holiday. You can make a parachute jump or sail with a 'blokart' on the wide North Sea beach. Spectacular!
The beaches of Ameland
Beach near Hollum
Northeast of Ameland is the wide beach of Hollum. The beach is about 2 kilometers from the village. From the parking lot it is about a 500 meter walk to get to the beach through the dunes. It is a beautiful and quiet beach.
Beach near Nes
The popular beach at Nes is for everyone. From active people who want to surf, kite, paddle, raft or blockart to walkers and families.
Beach near Buren
The village of Buren is located east of Nes. Here too there is a beautiful beach surrounded by the dunes. It is wide and peaceful.
The Robbenbank & Shell Bank
No beach, but you will find a lot of sand in the Blue Bellows area between Ameland and Terschelling. Here lies the Robbenbank. The sandbar falls dry at low tide and is a favorite spot with seals. The Robbenbank can be visited via a boat trip from the port of Nes. The boat also visits the Shell Bank, which is dry for two hours at low tide. This sandbar is covered with a huge amount of shells and oysters.