The Grebbe Line of Defense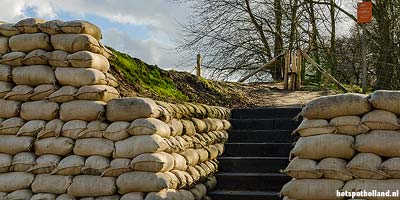 The Grebbe Line of Defense near the city of Leusden
Leusden


Defense-line hiking past bunkers and trenches
Leusden - The Grebbe Line is best known from the early days of World War II. During those May days of 1940, the line was the main line of defense against the Nazi-German attacks. But the history of the line goes back much further.
From Rhenen to Spakenburg
The Grebbe Line extends over sixty kilometers, from Rhenen to Spakenburg. Nowadays it is a green winding ribbon through the provinces of Utrecht and Gelderland where you can walk, canoe and cycle. In between you can make a stop at a fort, trench or casemate.
Construction of the Grebbe Line
The history of the Grebbe Line dates back to the sixteenth century. As early as 1590, a redoubt was constructed near Woudenberg with the idea of flooding the surrounding areas during the war.
It remained a long time planning until the French invaded the Netherlands in 1672. Under Stadtholder William III, the French army was expelled and a decision was made to establish a line of defense through the Gelderse Valley, from Rhenen to Eemnes: the Grebbe Line of Defense.
Ultimately it took until 1744 before serious construction was done. The reason was a European war that threatened to spread to the Dutch Republic.