The Rock: Boulders island Maarn (Zwerfsteeneiland)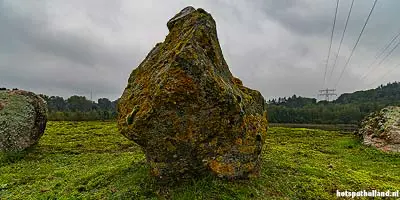 Boulders island Maarn
Maarn


Sand excavation Maarn
Maarn - Boulders island (Zwerfsteeneiland) Maarn is located right next to the A12 highway on the Utrechtse Heuvelrug. Thousands of cars drive past here every day. But the Zanderij Maarn, the sand quarry in which the Zwerfsteeneiland is located, feels like a small oasis, far away from the crowds. On the island is a huge star of boulders, all from the penultimate ice age.
5G Dolmen
"It's like a 5G dolmen" jokes one of the visitors. In the middle of the rocky Zwerfsteneneiland is a large mast. Not a transmission tower for the 5G network, but a large electricity tower. Scattered over the ground are the large boulders from the penultimate ice age. The guide tells with enthusiasm that the stones show where they come from. For example, there is a group of stones from the region around Stockholm. Other boulders come from other parts of Scandinavia.
Glacier Valley
During the penultimate ice age, a huge glacier ran from Scandinavia to the Utrechtse Heuvelrug. Sand and boulders were pushed our way at the rate of one centimeter a day. When the ice withdrew, the Utrechtse Heuvelrug remained. Where the sand quarry is now, there was then a sixty meter high mountain of sand.
During the construction of the railway between Germany and Utrecht, a low point in the Heuvelrug was sought; the less difference in height, the less there was to excavate. The largest sand quarry in the Netherlands was created on this spot, actually a kind of glacial valley. Remains of an old turntable still remind us of the time when the largest shunting yard in the Netherlands was located here, all for sand extraction.