National Model Train Museum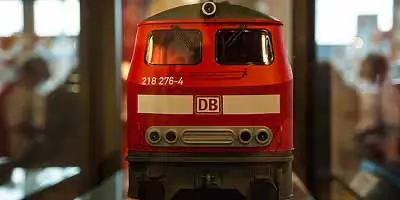 Trains in the National Model Train Museum during the Eleven City Tour
Sneek


For model train enthusiasts of all ages
Sneek - The National Model Railway Museum of The Netherlands is located in the central train station of Sneek. Besides the (mainly Dutch) train models you can see multiple working model railways.
Sneek main station
The National Model Railway Museum of the Netherlands is located in the main station of Sneek. In addition to the mainly Dutch train models, there are also working model railways to see.
Hobby that got out of hand
It all started with a collection of model railway trains from Sneeker Piet Scheltema that got out of hand. His collection of trains became so large that he decided to start a museum. Many years later - and a few moves later - the museum has grown into a mature home for more than 4,000 train models. The museum therefore houses the largest collection of trains in Europe. Not only the large number of scale models, but also the historical image that is sketched, makes the collection interesting for enthusiasts. The scale models allow you to follow the entire railway history.
Since 2005, the museum can be found in the most beautiful place it could wish for: the characteristic main station of Sneek.
Train Museum - Also for the mothers
Fortunately, it's not just looking in the museum. Children can build themselves and play with rails and trains. Or drive the trains yourself on one of the large train tracks. There is also a train quiz and simulation games. Everything has been thought of, because for mothers there is a reading corner with magazines. Bring on that rainy afternoon during the holidays!
Of course there are plenty of trains running in the museum and there are various train games for the children.