It Lân Skip: bottom-up farm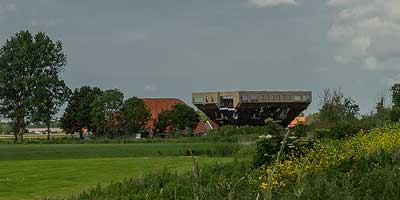 It Lân Skip: bottom-up farm Hindeloopen in Friesland
Workum


The farm upside down
Workum - The blue sky is above and the green grass is still below. The cows are still with four legs in the pasture and the sun is in the sky. Otherwise you would think that you are hallucinating at the sight of It Lân Skip: the farm upside down.
Bottom-up building
Farms, pastures and cows are part of our landscape. But when you suddenly see a farm upside down, you look a bit strange until you know the idea behind it. The idea for the farm originated with the owner years ago. They wanted to be able to see across the seawall from their new home, but that is difficult in a farm. The solution was as simple as it was brilliant: the farm was simply turned around with the living area above and the roof below.
It Lân Skip
The name of the project is "It Lân Skip" or in Dutch "the landscape". The farm is like a ship on dry land. The upside-down farm is certainly an enrichment of the landscape. The building is striking but absolutely not disturbing.
The construction project
Building a farm upside down sounds simple. The execution was not and that already started with the building permit. For example, a gutter should not be higher than 5.20 meters, but that does not work with upside-down construction.
The farm itself is built on a steel frame which then rests on a foundation of 28 piles of eleven meters. Bricklaying seems to do to us, but how do the tiles stick? The architect of It Lân Skip is Rein Hofstra. The owner and creator of the inverted farm is Pieter Stellingwerf. He built the farm to turn things upside down. And of course for the generous view from the bottom and top floor.