The big face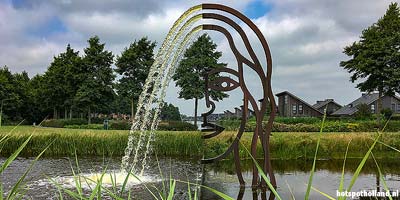 The Big Face pumping station
Joure


Water Pumping Station
Joure - A cheerful face of a Frisian lady with gushing jets as hair.
Dancing hair
The six-meter tall water sculpture is a water separator. The face pumps about four hundred cubic meters of water per hour upwards. It rattles down via the head and the hair of the girl at the other side of the divide again.
The sculpture was created by the artist Maree Block and Bas Lugthart.