Sloten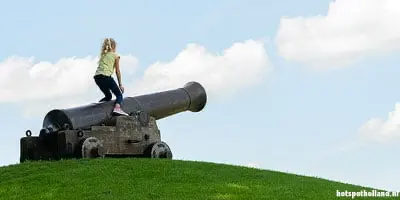 The smallest town in Friesland
Sloten - With just under 750 inhabitants, "Sleat" or in Dutch "Sloten" is the smallest town of the Frisian Eleven Cities. It is also one of the most beautiful! The old walls, ramparts, moat and gates of the friendly town are all still intact. Just like the pride of the town, corn mill De Kaai, where wheat is still ground into flour.
Sloten owes its name to the Van Harinxma thoe Slooten family. In the thirteenth century they had a stins at the intersection of the trade route from Bentheim to Stavoren and the waterway from Sneek to the Zuiderzee. The city was also strategic during the Eighty Years' War. At the time, the Spaniards tried to conquer Sloten by hiding soldiers in a beer ship. It failed.

Nowadays Sloten is only "strategic" for water sports enthusiasts. The town is located near the Slotermeer where there is plenty of sailing opportunity.

The original ramparts and the structure of Sloten have been almost completely preserved.