That high?! Zaltbommel water statue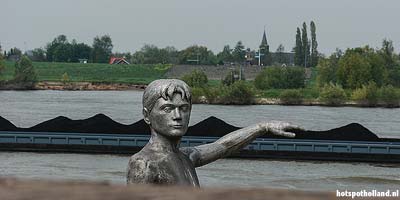 Netherlands high water
Zaltbommel


Netherlands high water
Zaltbommel - The river water is low. The Waal has shrunk into a small river. It is therefore a warm day at the end of a long dry period in the summer. It has not rained in the river basin for some time. Yet it can also be completely different ...
Boy in his swimsuit
At Zaltbommel there is a statue of 4 meters high in the floodplains of the Waal. It's a boy in his swimming trunks. He holds up his left hand to indicate how high the river water can get before the people from Bommel get just as wet as the little guy himself. When the hand is reached, the water is up to the top of the quay wall. This is 8.87 meters above N.A.P. And sometimes the water gets almost that high. In 1861 the river reached 7.61 meters and in 1995 it was also extremely high, about 7.43 meters above N.A.P.
The sculpture was made by artist Marcel Smink.