Tulip Island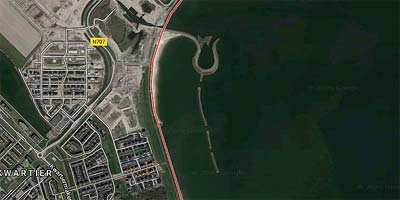 Tulip island Zeewolde. Foto: google Maps
Zeewolde


Iconic island in the shape of a tulip
Zeewolde - The ingenious and man-made Tulip Island is a characteristic Dutch island, located in the Wolderwijd near Zeewolde. The island does not only have the shape of a tulip, there are also 120,000 tulips growing on the special island in the spring! Tulip Island is then a big sea of tulips!
Civil servant
The unique shape immediately attracted attention during the construction of the tulip land in 2014. The idea of Justus Kuijk, civil servant of the municipality of Zeewolde, arose in 2007 and was soon called Dubai at the Wolderwijd. The six million euro project took a while to be implemented, but Tulip Island is gradually becoming something, with beaches and a small port for around 80 vessels.
The chalice
Tulip Island actually consists of several islands. The main island is shaped like a chalice and is the size of a football field. The harbor in the chalice has 80 places. The stem is formed by an elongated natural island. A 200 meter long dam connects the island to the city of Zeewolde on the mainland in the province of Flevoland.