Rhenen Grebbeberg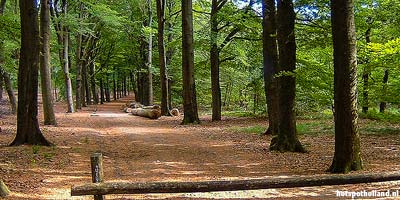 The history of the Grebbe Line
Rhenen - To better protect the Dutch Republic in the late 17th century, Stadtholder William III, planned a new defence line. Part of this structure was the Grebbe Line, which runs from the Eemmeer to Rhenen. But it took another 150 years for the worst to come. The Grebbe Line played an important role in the early days of World War 2.
Inundations
These defense plans were mainly based on inundations; flooding areas to stop the enemy. We also encounter the same principle in other parts of the country, such as the Hollandsche Waterlinie and later in history also at the Defense Line of Amsterdam.
World War II
In World War II, the Grebbeberg and the Grebbelinie formed an important part of the defense of our country against the German troops. To strengthen the line, pieces of land within the position were flooded. Only in the area between Wageningen and the Grebbeberg was this not possible. The German attack focused on this weak spot.
The Dutch soldiers managed to resist for a few days, but then had to withdraw. A day later, Rotterdam was bombed and the Netherlands capitulated.
Grebbeberg hike
From the Grebbeberg you have a beautiful view over the Lower Rhine. Direction Wageningen is located along the bank of the river the nature reserve De Blauwe Kamer . Other places to visit on and around the Grebbeberg are the defense work Hoornwerk that was already built at the foot of the mountain in 1744. On the Grebberg itself you will find De Walburg a defence work surrounded by 2 earth walls with in between a dry moat. The incisions in the mountain were created by meltwater after the last ice age, about 10,000 years ago.

At the Military Cemetery Grebbeberg, 800 fallen soldiers from the Second World War are buried. Here is also a small visitor center.
Decommissioned defence line
The Grebbe Line was decommissioned in 1951 and fortresses, locks and other works fell into disrepair. Due to increasing interest, various parts of the line have been refurbished.
Battle of the Grebbeberg
At the beginning of the war, on 11, 12 and 13 May 1940, there was fierce fighting for the Grebbeberg. An army of 20,000 German soldiers was stopped at Rhenen during those 3 days, but managed to break through the line due to its great force majeure. 420 soldiers died on the Dutch side. The city of Rhenen was also largely destroyed.