Wolfsdreuvik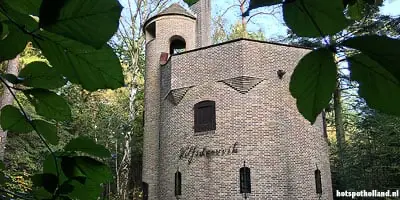 Wolfsdreuvik, hidden in the Smithuyserbos
Hilversum


The hidden wolf hill in the Smithuyserbos
Hilversum - Hidden deep in the Smithuyserbos lies Wolfsdreuvik. This medieval-looking "wolf hill" is a mysterious place in the forest on the border of the provinces of North Holland and Utrecht. Due to its location, the place is relatively unknown - even among older Hilversum residents from the neighbourhood. During a forest walk, you just pass by Wolfsdreuvik.
Jan Rebel
Located south of the Wasmeer near Hilversum, the 40-hectare Smithuyserbos is named after Pieter Johannes Smithuysen, an Amsterdam tobacconist who bought the forest in 1838. A hundred years later, the new owner, the Amsterdam art dealer and director of the Catharijneconvent Bouvy Museum, had a day care center with a watchtower built in the forest: Wolfsdreuvik, which means wolf hill.
Wolfsdreuvik is built on a small ridge and was designed by architect Jan Rebel, known among other things for the Singer Museum in Laren. Contrary to what you might expect from a country house in Hilversum, the facilities are primitive. Wolfsdreuvik has no electricity or sewerage.