Noarderleech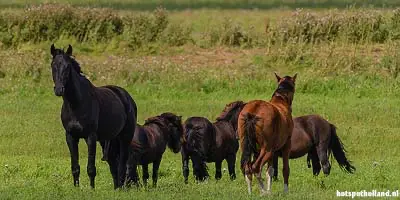 Wild horses in Noarderleech
Hallum


Walking outside the dikes in the salt marshes
Hallum - When we park at the bottom of the Wadden sea dike, we actually have no idea what we will see on the other side. Is it high tide and do you see the sea? Or is it low tide and can you see the sea floor? How big is a salt marsh and is it muddy? We are going for a walk outside the dike in the salt marsh today, but as city dwellers we actually have no idea what to expect. Despite the beautiful weather, we put on boots just to be sure!
Yn loft en see skûlje wiere dreamen
True dreams are hidden in the air and sea
When we are on the dike we see Ameland and Schiermonnikoog in the distance. But right in front of us there is no water or silt... there is a vast summer polder of waving grass!
On the dike we read in Frisian language and in large letters 'True dreams are hidden in the air and sea'. With that in mind we start our walk and step from the dike into the vast salt marsh. On a sign we read that we are not the only ones who are surprised that there is no water here but land. For centuries, on the border of salt and fresh land has been mined. Brushwood dams attempt to retain the silt. Around 1600 the salt marsh along the coast of North Friesland was 14,000 hectares. Now only 3,000 hectares remain.
Bird watching Noarderleech
The area outside the dikes is an important place for birds. About a million birds come here every year to look for food; Among the 240 different species of birds you can see the sooty sandpiper, barnacle goose and curlew.
Noard-Fryslân Bûtendyks
There is an enormous salt marsh area against the Waddendijk of Friesland. The Noard-Fryslân Bûtendyks nature reserve extends from the small village of Zwarte Haan ('Black Rooster') to the Pier of Holwerd where the boat to Ameland departs.