Center for Dolmens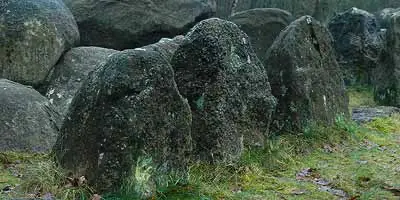 Megalithic monument in the province of Drenthe
Borger


Megalithic monuments in the Netherlands
Borger - Across the idyllic northeastern province of Drenthe you can find more than 50 prehistoric dolmens (hunebedden). The boulder formations were built in the Stone Age and you can visit them for free. They are scattered around the province. To learn more about the stories behind these megalithic tombs - they are 5500 years old - please visit the Megalith Center in Borger.
Older than Egypt's pyramids
The dolmen configurations, there is one with a capstone weighing more than 20,000 kilo's, are believed to be burial tombs used by farmers - 5500 years ago. This means that these amazingly old structures are older than the pyramids in Egypt.
Up to now it is still not 100% clear how the massive stones were transported and lifted in place.
Apart from the Dolmen Information Center in Borger, you can also see the largest hunebed here.