Highest point in Friesland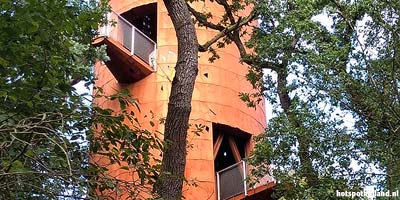 The highest point in Friesland in Appelscha
Appelscha


Discover the mountains of Friesland
Appelscha - The province of Friesland is not immediately known for its mountains. Many people think of the many lakes and green meadows. Yet Friesland is much more than water and cows. There are forests along the IJsselmeer lake near Gaasterland. And in the south, near the border with the province of Drenthe, there are extensive nature reserves. Finally, most of the Wadden Sea islands also belong to Friesland. It is precisely in these places - far away from sailing boats, meadows and black-and-white cows where the highest points in Friesland can be found.
Highest point in Friesland
The highest point on the Frisian mainland is in the woods near Appelscha. It is a 20 meter high drifting dune with a viewing tower of no less than 33 meters high. At the foot of this mountain lies the vast Drents-Friese Wold National Park. From the top of the tower you have a beautiful view of the surrounding nature reserve and with a bit of luck you will see Leeuwarden and Groningen.
The tower is inspired by a giant pine trunk and replaces the old Belvedere tower which was only half as high.
Highest point Gaasterland
In a flat province, something is quickly a mountain, or in this case a cliff. The highest point of Gaasterland is located on the edge of the Jolderenbos in Gaasterland near the IJsselmeer. Luchtwachttoren 6H3, just southwest of Oudemirdum, is located at the highest point of Gaasterland, at a height of 12.70 meters above NAP.
Highest mountain Friesland
The only mountain in Friesland, the really highest point of Friesland, is the Vuurboetsduin on Vlieland. This highest point is hard to miss. At the top is the island's lighthouse.