Museum Het Schip (The Ship)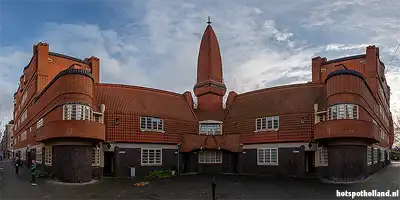 The Ship, Amsterdam
Amsterdam


Amsterdam School architecture early 20th century
Amsterdam - Museum Het Schip ("The Ship") has nothing to do with boats or water. Instead it's perfectly designed building, following the rules of the Amsterdam School, the expressive architectural movement of the early 1900s.
The museum is located in the Spaarndammerbuurt area, just outside the city center of Amsterdam. Here you will find buildings designed with an eye for detail: beautiful facades with rounded shapes and artfully designed windows, ornaments, exceptional constructions, gates and bay windows. The most beautiful building of the area is Het Schip which is now an architectual museum.

On the outside it is difficult to tell that Het Schip was a resedential complex for workers. The complex also includes a post office, a meeting room on the courtyard and a former school where you can visit a permanent exposition on the Amsterdam School and the history of social housing. There are also spaces for temporary exhibitions and education.