Safari Park Beekse Bergen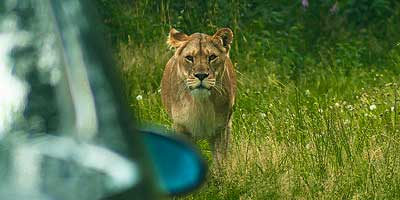 With your private car on Safari
Hilvarenbeek


Wildlife safari by private car
Hilvarenbeek - Wildlife safari with your private car? In Safari Park Beekse Bergen you can take your own car for a drive among more than 100 wild animals. No car? Take the safari bus or just walk. And take your time. A trip to the Safaripark can take easily more than a day.
The Big Five Beekse Bergen
There are about 1,000 animals living in the park, including African elephants, monkeys, bears and many other exciting wild animals. Don't forget your camera!
The Big Five of Africa are leopard, elephant, the rhino, lion and the buffalo. But our personal Big Five in Beekse Bergen is slightly different: