Kampina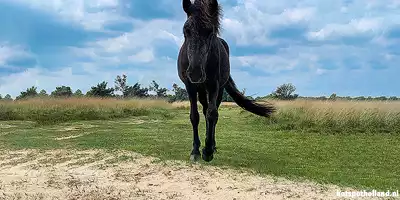 Oops a little too close! Wild horses in Kampina
Oisterwijk


And the Oisterwijk forests and fens
Oisterwijk - De Kampina is a vast nature reserve between Boxtel and Oisterwijk. It is a varied area where you can walk endlessly, far from civilization. From Boxtel you walk on the Kerkpad (a former Church path) and along the brook valley of the Beerze. Deeper in the area you walk past numerous fens, over extensive heathland interspersed with forest.
Kampinase heath
The Kampinase heath is the central part of the Kampina. The heather is beautifully in bloom here in August and September. But the other months also have their own charm and color palette. Around the fens you often hear the many frogs croaking. Numerous species of dragonflies also live here.
De Beerze stream valley
The river De Beerze has been winding through the southern part of the Kampina for centuries. The river has a great attraction for all kinds of animals. A beautiful walking path runs along the water in the stream valley. Fish ladders have been constructed in the stream itself
Animal spotting: from croaking frogs to wild horses
In the Kampina you have a good chance of spotting animals. On land you may encounter large grazers and wild horses. In the sky you may see a buzzard praying or hear a cuckoo. And in and around the water you can hear the endless croaking of the many frogs. If you come in the early morning or at dusk, you also have a good chance of spotting deer.
Oisterwijk forests and fens
Towards Tilburg, as an extension of the Kampina nature reserve, lies the Oisterwijk forests and fens area. Actually, both areas together form a large nature reserve, with enough space for endless walking pleasure.