Ice skating museum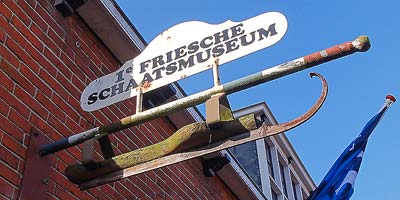 Ice skating museum Hindeloopen
Hindeloopen


Largest ice skating collection in the world
Hindeloopen - When you consider that there are about 6 million skates in the attics in the houses of te Netherlands, then you know that the whole country is ready when there is ice - let alone when the unique Eleven city tour arrives! With just a little ice in winter, everyone goes crazy. However, no matter if it is winter or summer, there is a real ice skating museum, in one of the Frisian Eleven Cities, in the heart of the ice-skating-loving province of Friesland.
Hindeloopen
Hindeloopen is one of the Frisian Eleven Cities. There are plenty of opportunities around the town for beautiful ice-skating trips in winter (and in summer for beautiful cycling or boating trips). The lovely town, in the heart of Friesland, is the best place for a real ice skating museum. The museum has some remarkable pieces in its collection.
Top piece: Frozen toe
There are silver skates, ancient skates and there is the largest skate in the world. Eleven Cities Tour highlights are the frozen toe of a rider plus the ice-skates of W.A. van Buuren, the cover name of King Willem-Alexander of Orange.
There is also a blacksmith shop, a skating snail shop and you will learn everything about the various ice-skating sports.