Neutral Moresnet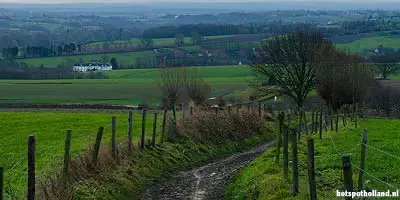 The hilly landscape in the deep south of the Netherlands is never boring
Kelmis


The forgotten country
Kelmis - Chances are you have never heard the country Neutral Moresnet. Yet the forgotten country, just across the Dutch/Belgium border, really existed not that long ago.
Neutral Moresnet
The mini-state of Moresnet was only 11 square kilometers in size. It was created in 1815 when the Netherlands and Prussia could not agree on a zinc mine.
Five years earlier, the Liège inventor Jean-Jacques Daniel Dony obtained the patent for the production of zinc from Napoleon. The inventor already owned a metal mining concession in the area below Vaals. After the fall of Napoleon, both the Netherlands and Prussia claimed the area. As a solution, it was decided to give the quarry a separate status within the municipality of Moresnet. The neutral country thus came under the joint administration of both countries. Thanks to the separate status, the 256 inhabitants of the new mini-country received all kinds of tax benefits. There were even plans for their own currency, their own stamp, maybe even income tax and even the introduction of Esperanto as a language.
Kelmis and Independence Moresnet
In a short time the village of Kelmis, derived from the Greek word for zinc, grew from 250 inhabitants to a tax haven with 3,500 inhabitants. In its heyday, neutral Moresnet was the largest zinc producer in the world. In the village there were about 60 cafes as well as several brothels. But as the quarry became exhausted, so did decline.
When Belgium became independent from the Netherlands in 1830, a four-country point was created near Vaals. Almost a hundred years later, in 1919, the little state was dissolved. After World War I, Germany renounced Moresnet and the area became part of Belgium. What remains of neutral Moresnet are some ruins, some fifty border markers and a small museum - the Göhltal Museum - with attributes, documents and photos from that time.