Lighthouse Texel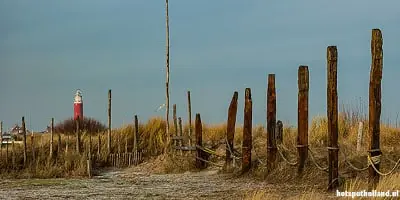 The northernmost point of Texel
Texel - A visit to the lighthouse Vuurtoren van Eierland on Texel is one of the most popular outings on the Wadden island. The tower is built on a 20 meter high dune and is 34.7 meters high. The bright red lighthouse is enclosed on three sides by the sea, something that is unique in the Netherlands. The Texel lighthouse is also very photogenic.
Walk around the lighthouse
Besides a visit to the lighthouse itself, a walk around the northern tip of Texel is definitely worth it. This is where the North Sea, Wadden Sea and the beach come together. Thanks to a stone dam, the beach around the northern tip of Texel has become hundreds of meters wide. Due to the influence of wind and sea, the spectacle changes continuously.