Vlieland Widerstandsnest 12H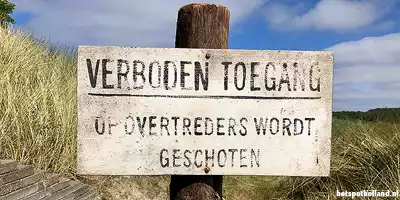 Vlieland Widerstandsnest 12H
Vlieland


Bunkermuseum Wn 12H
Vlieland - During the Second World War, the German occupiers built a defense line along the entire North Sea coast, the Atlantic Wall. This was also the case on the Wadden Island of Vlieland. Not that the Germans were afraid that the Allies would land on Vlieland, but because of bombers flying over. Every night the RAF, the English Royal Air Force, flew over to bomb cities and factories in Germany. The Netherlands was darkened during the war. Therefore, it was difficult for the English pilots to navigate. By counting the Wadden islands, the pilot knew where the plane was. The Atlantic Wall consisted of several large, strategically located Festungen and several smaller Stellungen, such as the Widerstandsnest on Vlieland.
Aerial target artillery
The bunkers on the Wadden Islands were mainly equipped with anti-aircraft artillery. If necessary, the guns could also be used against ships.
Restricted Area
During the war, a large part of Vlieland was a restricted area. The beach and dunes were largely closed and cordoned off with barbed wire. Most traces were removed after the war. Only the 12H nest of resistance remains from this period.
Tiger
The German occupiers had divided the airspace over the Netherlands into different zones. All named after an animal. The area around Vlieland, Terschelling and Ameland was called "Tiger". The area over Texel "Salz Herring" and the area over Schiermonnikoog "Schlei"