Viewpoint Lührs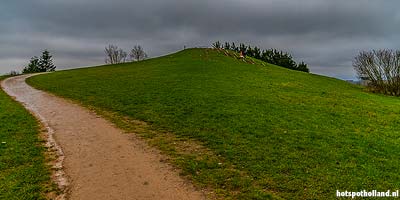 The one and only mountain near Rotterdam
Bergschenhoek - Viewpoint Lührs is the most beautiful view point in Rotterdam - outside the city. Follow the Rotte river to the Hoge Bergse Bos and you will arrive at Lührs lookout point, the one and only mountain in Rotterdam. You can ski all year round (ok, it's a brush track), mountain bike (most cyclists have to get off, so steep) or climb the 40 meter high mountain on foot. At the top of the mountain, your reward awaits in the form of a beautiful 360° view with the skyline of Rotterdam in the distance.
The highest mountain in Rotterdam
It's nice to have such a beautiful mountain top, but how did the green hills of the Hoge Bergse Bos come about? And where do we actually stand? You guessed it, like so many mountains outside Limburg, you are standing on a mountain of waste here. Under the green grass is demolition and construction waste from Rotterdam.
Lührs lookout point
At the top of the mountain is Lookout Point Lührs. On the top is a compass with the cardinal directions. You can see the skyline of Rotterdam and in good weather also that of The Hague. The viewpoint is thanks to a bequest from Mr. Luhrs. Thanks to his efforts, the Viewpoint was made possible.