Vorstengraf ('Grave of the King')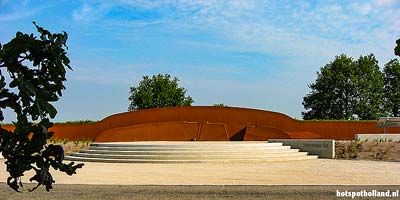 The Grave of the unknown King: Vorstengraf Oss
Oss


Largest burial mound in the Netherlands and Belgium
Oss - The largest burial mound in the Netherlands and Belgium, the Vorstengraf (Grave of the King), in Oss stands three meters tall and has a diameter of about 54 meters. The mound was discovered in 1993 by coincidence when constructing a trailer park.
Largest burial mound if its kind
The Vorstengraf was dated by a curved iron sword from 700 BCE, found in a bronze bucket at the site. A second Vorstengraf was uncovered in 2009, only a few hundred meters away from the first site.
In the surrounding area also graves were found. These graves were built sometime between the Early Bronze Age and the Early Iron Age, between 2300 BCE and 700 BCE.