Het Miljoenenlijntje (The Million railway)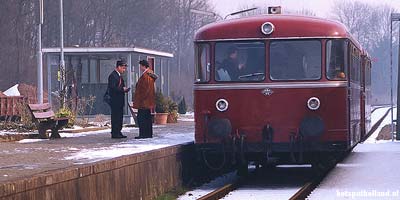 A classic Schienenwagen supplements the steam train timetable
Simpelveld


The most expensive railway in the Netherlands
Simpelveld - The name 'Miljoenenlijntje' ("Million railway") is derived from the high construction costs of this railway line between Schin op Geul and Kerkrade in the most-southern part of the Netherlands. Costs were one million guilders (approximately € 455,000) per kilometer. Compared to the billions of euros costing Betuwe railway line and the high-speed railway from Amsterdam to Paris, this was a pittance, but in the early nineteenth century it was an astronomical amount of money.
Increasing construction costs
The construction costs of the railway line were so high because quite a few tunnels, bridges and culverts had to be built. In addition, all construction works had to be made extra sturdy in connection with possible subsidence by the local mining industry. Huge amounts of soil also had to be moved to bridge height differences.
No more commuters
On the original route of the Miljoenenlijntje, Valkenburg - Kerkrade - Heerlen, no regular train service has been running since 1988. Fortunately, the disused railway line has been restored and a (steam) train of the "Zuid-Limburgse Stoomtrein Maatschappij" (ZLSM) runs regularly.
Potter along through South Limburg
In winter the train only runs on Sundays, in the rest of the year on Sundays and Wednesdays. Instead of the steam train, a so-called 'Schienenwagen' is often used to complete the timetable. A nice little red train where you can watch over the driver's shoulder during the ride.
Railway stations along the Miljoenenlijntje
Schin op Geul / Wijlre-Gulpen / Eys / Simpelveld / Spekholzerheide / Kerkrade center and Simpelveld / Bocholtz / Vetschau.
Boarding is possible at all stations (without reservation).