Rotterdam Maasvlakte²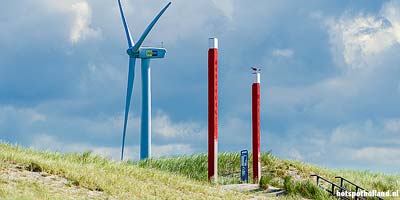 Beach at Rotterdam Sea Port: Maasvlakte 2
Rotterdam


Going to the beach in the port of Rotterdam
Rotterdam - "Palm Island" and "The World" are an archipelago of islands that forms respectively a palm tree and a world map in miniature. Dubai claims that the mega projects are the eight wonder of the World. The ninth wonder of the world is the Dutch coast line near Rotterdam that has changed drastically in the last two decades after land was claimed offshore. The shape as seen from space isn't very spectacular, but if you drive around on Maasvlakte 2 you will be impressed by the vast size of the latest addition to Rotterdam Sea Port. It's one of the rare Ports in the world that can handle the largest ships on earth.
The beach at Rotterdam
Surprisingly, Maasvlakte 2 is not just an industrial area. There is also a nice dune area with a lovely beach and plenty of space for birds and even seals.
Ship Spotting
From Maasvlakte 2, near the entrance of the
Nieuwe Waterweg
, the canal that connects all the harbours in Rotterdam, you will have a stunning view on all the large vessels.