Headland De Punt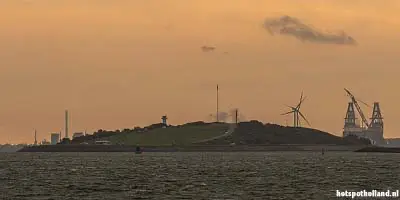 Headland De Punt Rozenburg
Rozenburg


Spotting large ships from your car in the port of Rotterdam
Rozenburg - A strange popcorn smell permeates the car. It smells a bit sour and hits our throats after a while. The wind is unfavorable when we drive towards the sea. To the right of the road is the Nieuwe Waterweg and the huge doors of the Maeslantkering. On the left is the Caland Canal where huge ships sail - at the other side the Europoort with its gray industry and chimneys that spew out endless clouds of filth.
Spotting large ships
Whatever you think of the heavy industry and air pollution, the large smoking factories across the water look impressive. The work goes on here day and night. The dimensions of the ships that pass by are also beyond your imagination. A 400 meter long container ship that can transport 24,000 containers? A supertanker of 380 x 68 meters? The largest crane vessel in the world? During our visit there were two. A cruise ship that is longer than the Eiffel Tower is high? The port of Rotterdam is world-class and receives the largest ships in existence.