Twist Bridge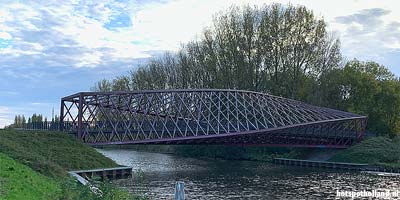 Twist Bridge, Vlaardingse vaart, Vlaardingen
Vlaardingen


The rotating Vlaardingse Vaart bridge
Vlaardingen - A bridge with a twist. The red Twist Bridge in the city of Vlaardingen in the Rotterdam area, spans 42 meters accross the Vlaardingse Vaart canal. The construction of this curly brigde turns 90 degrees from one side to the other, giving the Twist Bridge an unique appearance.
Vlaardingen
In addition to the appearance, the rotating design of the Twist Bridge also helps tot damping vibrations.
Vlaardingen is a city in the outskirts of Rotterdam. The Twist bridge connects two suburbs by bike or foot. The Twist Bridge strikes the eye and is designed by West8 architecture and was openend in 2009. The design was nominated for the Dutch Design Awards that year.