Zaanse Schans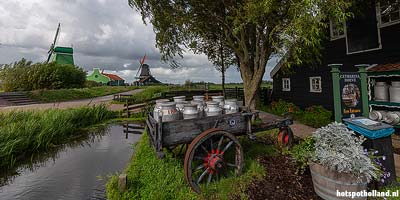 Wooden houses, barns, shops and windmills from the 18th and 19th centuries
Zaandam - Welcome, Welkom, Wilkommen, Bienvenue, Bienvenidos, Benvenuti and then presumably the same message in Chinese, Japanese and Korean. Visitors from all over the world come to the Zaanse Schans, a typical piece of "primeval Holland" in Zaandam. For us, a visit during a rainy afternoon turns out surprisingly well. Relatively few tourists and very beautiful Dutch skies!
First industrial area
Prior to the steam era, the Zaanse Schans was one of the first industrial areas in the Netherlands in the 18th century. In its heyday, there were 500 mills here in North Holland, varying from paint mills to saw mills. At the time, very modern living and working were combined in the Zaan region.
Although the windmills of the Zaanse Schans are all historical, they were not originally located here. In order to preserve the heritage, the various buildings and mills have been relocated since 1961 to this location on the Zaan and what is now the picturesque Zaanse Schans.
There is still industry in the area. During our visit we were 'welcomed' by a rather nasty roasted cocoa bean smell.